A notable exception is a design, which remains the same as the iPhone 12 Pro. iPhone 13 Pro comes with a matte finish on the back and stainless steel edges, making it feel appropriately premium.
Moreover, the iPhone 13 Pro offers an excellent camera experience, with a versatile array of cameras that can handle both daytime and nighttime photography. The macro cameras mean you can shoot at a variety of distances, too.
Features of iPhone 13 Pro
ProMotion
With the iPhone 13 Pro, Apple's ProMotion technology enables low-power display backlighting for the first time. In the iPad Pro, ProMotion was introduced, which provides adaptive refresh rates between 10Hz and 120Hz.
Design
The iPhone 13 Pro is the company's most premium device yet that doesn't include a Max in the title, and unlike the iPhone 13 Pro Max, this is a more realistic size for one-handed use. If you're looking for a new, mid-sized iPhone, this handset, or the iPhone 13, should suit you perfectly.
Camera
Apple's iPhone 13 Pro features three 12MP cameras: a wide-angle camera with an f/1.5 aperture, a telephoto camera with an f/1.8 aperture that offers 3x optical zoom, and an ultra-wide camera with an f/1.8 aperture and 120-degree field of view. The rear camera now features a triple-lens with an f/2.8 telephoto lens, an f/1.5 wide-angle lens, and an f/1.8 ultra-wide lens. With its 2.2x larger aperture and largest sensor in an iPhone yet, the Wide lens lets in 2.2x more light, while the Ultra-Wide lens lets in 92 percent more light for improved low-light performance.
iPhone 13 Pro Camera Specifications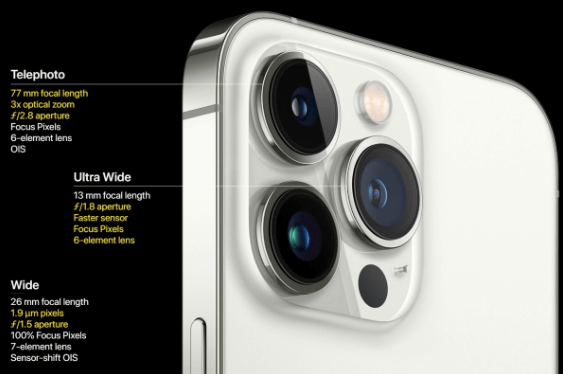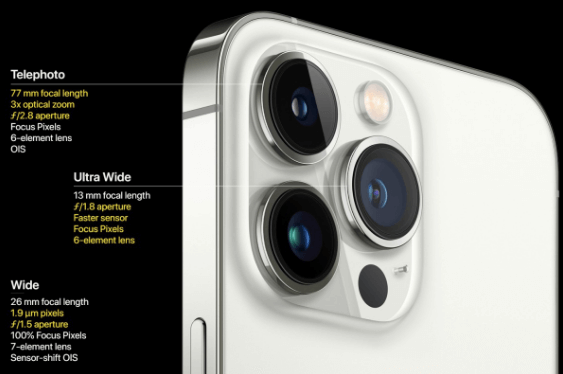 This year, the camera setup is the same on iPhone 13 and iPhone 13 Pro, so there is no difference between the Pro and Pro Max. With the 77mm Telephoto lens and the addition of the Ultra Wide Lens, the optical zoom is 3x. Compared with 2.5x on the 12 Pro Max, there is a 6x optical zoom range and 15x digital zoom capability. In addition, there is a LiDAR scanner, which is not available on the iPhone 13 and 13 mini.
Display
The iPhone 13 Pro also features a 6.1-inch Super Retina XDR OLED display. It doesn't have the highest pixels-per-inch rating out of the entire iPhone 13 range – that honor belongs to the iPhone 13 mini – but it does have 460ppi, and the image quality is correspondingly crisp.
Performance
Apple's iPhone 13 Pro also comes with the A15 Bionic chipset, which the company says is the best smartphone processor currently available.
According to our testing, it was able to load every app with ease and didn't stutter. The games we played on the phone also loaded quickly.
Software
Apple's iOS 15 is pre-installed on the iPhone 13 Pro. Over iOS 14, iOS 15 adds a few tweaks and extra features, but it's not much of an upgrade over iOS 14.
As an example, the new Focus mode lets you choose what notifications you want to receive at certain times of day, so you can choose not to receive Twitter notifications during your working hours, for instance.
Battery life
It's better than previous Pro models from Apple, but it isn't as good as the top-of-the-line 13 Pro Max.
We found that the iPhone 13 Pro can last a full day with normal use. It's possible that your phone will need recharging before the end of the day if you push it a little harder.
Photographic profiles
There are two new camera modes added to Apple's iPhones this year, both on the Pro and regular models. Both are fascinating in their own way. Cinematic Mode is like Portrait Mode, but for video, while Picture Profiles change how the iPhone takes pictures by default. Let's start with the Picture Profiles, which serve almost as an admission that Apple is feeling competitive pressure from Samsung and Google.
A15 Bionic Chip
The iPhone 13 has Apple's A15 chip, which offers better performance and efficiency than Apple's previous A14 chip for the iPhone 12. Featuring two performance and four efficiency cores, it is the fastest smartphone chip available.
Cinematic Mode
Apple's flashiest iPhone ads feature Cinematic Mode. There's a new iPhone video mode that blurs the background of videos, much like Portrait Mode blurs photos. It does not rely on the LIDAR sensor on the iPhone 13 Pro to create a depth map – it uses software to recognize faces and bodies.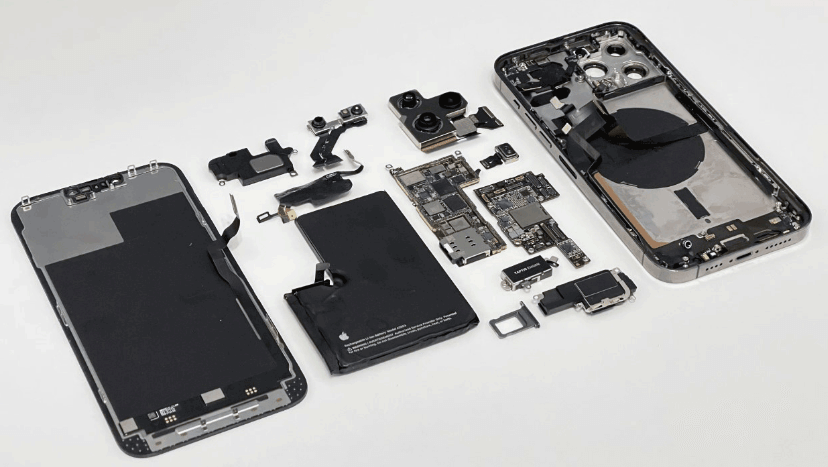 iPhone 13 Pro Repair Services at Alfalah Mobiles
Apple's iPhone 13 model was launched in December 2021. It is the latest model from this manufacturer. In spite of the fact that it is a brand-new Apple model, some users (unintentional falls, etc.) have experienced problems with their iPhone 13 handsets. Other factors contributed to these issues, such as the all-glass design of the phone, the lack of IP rating, and the large screen. Our team at Alfalah Mobiles in Sydney will be able to handle these issues in a short amount of time. Within just a few hours, we can help you use your iPhone 13 again