In March 2020, Samsung unveiled the Galaxy A11, which includes a strong set of features as standard equipment. A premium three-camera configuration, a large and quick-charging 4,000mAh battery, and a crystal clear 6.4inch display are just a few of the Galaxy A11's widely anticipated features.
This will be a Samsung Galaxy A11 Review for those who are interested in buying this Android smartphone in 2023
What is special about Samsung Galaxy A11?
You should look into the Samsung Galaxy A11 if you're searching for a reliable, entry-level Samsung Galaxy handset that won't break the budget.
In our opinion, Samsung made every effort to pack as much functionality as possible into this inexpensive offering, and the result is a fairly decent product.
You need to keep your expectations in mind. If you are accustomed to the best of the best such as the Flagship device then this is not too good.
What is inside the Box?
Included in the box's normal items for any modern gadget are headphones, warranty information, user manuals, a tool to remove SIM cards, an adapter, a USB charging cable, and the phone itself.
Everything is snugly packed and well-protected inside the box, and the presentation and boxing are excellent.
How long does a Samsung Galaxy A11 last?
The 6.4′′ display on this entry-level handset is the first thing you notice. Up to a year ago, you hardly ever saw a small screen on any entry-level smartphone. The largest screen size you have reviewed is a 6′′ diagonal width. A PLS TFT capacitive touchscreen with 16M colors and a resolution of 720 x 1560 pixels (about 268 PPI density) serves as the display. The actual display is quite brilliant. However, the resolution prevents it from using vibrant colors. Looks excellent for everyday use, though.
On the top left of the screen, is a little punch hole that contains the 8MP front selfie camera. We're glad that the Samsung Galaxy A11 doesn't come with a notch like most other entry-level phones.
So, this will be a big plus point for the A11 to stand out from the large entry-level crowd.
Moving on to the rear, the obvious triple camera setup sits at the top left while the fingerprint sensor sits right in the middle, slightly towards the top. The camera bump is obvious but it has become a norm that no one is bothered by it nowadays.
We're going to talk more about the day-to-day use of this phone rather than it not being a gaming phone.
How much RAM does Samsung Galaxy A11 have?
The 32GB + 2GB RAM version of the old item has bare minimal characteristics. You hardly played any intense games with this one, like PUBG Mobile or anything comparable. However, you did test out some common game genres, including Hill Climb 2 and Subway Surfers. Both of those games run smoothly on the Samsung Galaxy A11 and perform well on lower-end handsets.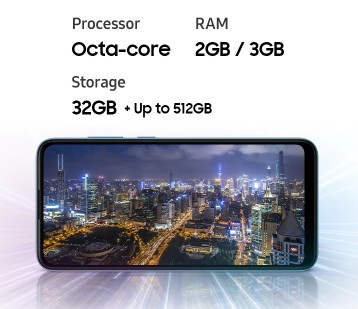 you do most of the normal stuff instead. Normal here means browsing the net with the browser, chatting on WhatsApp and Messenger, some social media use and editing some photos with Snapseed.
Is Samsung A11 fast charging?
The battery has a 4,000mAh capacity. The Samsung Galaxy A11 was able to last the entire day of usage with a few hours to spare before I plugged in the charger thanks to the simple setup and low-powered SoC. The battery can be quickly charged up to 15W, and it takes less than an hour to charge it from 10% to 100%.
The back-mounted fingerprint sensor operates quickly and accurately. It's important to keep in mind that touching the sensor will immediately unlock the phone. You still like having the fingerprint sensor on the back over the front or the side up until this point. Just my personal preference. You may know some people who dislike having the sensor at the back.
It's also important to remember that Android 10 is the current operating system. We pressed the update button when the phone's security update was ready to be installed when we first acquired it. The A11's seamless OS performance makes it seem like a solid choice for a budget-friendly phone.
Conclusion
Modern consumers don't pay much attention to inexpensive, basic smartphones. The majority of lower-end specifications are no longer relevant, especially when it just has 2GB of RAM.
We require at least 3GB of RAM as a starting point per today's standards. You're OK with 32GB of storage as long as you can add a MicroSD card to increase the overall storage.
The Samsung Galaxy A11 can perform well in normal usage conditions for daily use. Scrolling through social media was a breeze, basic games work well, watching movies or listening to music on its bottom-firing speaker is fine and the battery will last you the whole day.
Looking for a repair shop for your Galaxy A11 in Sydeny?
Alfalah Mobiles are on the Top-most list of Samsung repairs in Sydney. We have highly-trained specialists that can fix your shattered galaxy screens. We will repair your broken screen using original parts and in the shortest time possible. We offer high-quality repair services that address both hardware and software problems.