Comparison of iPhone 12 Pro Max and Samsung Note 20 Ultra Pro
Every other day new mobiles are getting launched. Updating an existing mobile to a new and better one is always exciting as well as a headache. The mobile specs, budget, and features make decisions hard for us. But Alfalah Mobiles has made it easy for you. We repair your phones and tell you about the specifications of mobile. Let's have a look at Samsung Note 20 Ultra Pro and iPhone 12 Pro Max.
Samsung Note 20 Ultra Pro V/S iPhone 12 Pro Max
Specifications
Samsung Note 20 Ultra Pro
iPhone 12 Pro Max
Processor
Qualcomm Snapdragon 865 Plus
Samsung Exynos 990
2.73GHz, 2.5GHz, 2GHz
Apple A14 Bionic
3.1 GHz
GPU
Octa-Core
Hexa-Core
Display
2 variations
6.9″ full rectangle / 6.8″ rounded corners
6.7 inches (round corners)
Resolution
3088 x 1440 (Quad HD+)
2778 x 1284-pixel resolution at 458 pp
RAM
12 GB
6 GB
ROM
128 GB, 256 GB, 512 GB
128 GB, 256 GB, 512 GB
Dimension
164.8 x 77.2 x 8.1mm
160.8 x 78.1 x 7.4mm
Weight
208g
228g
Colors
Mystic Bronze, Mystic White, Mystic Black
Silver, Graphite, Gold, Pacific Blue
Camera
12 MP f/1.8
108MP f/1.6
Software
Android 10
iOS 14
Specifications
Samsung Note 20 Ultra Pro has 8 GB RAM and beats the iPhone 12 pro max with 6 GB RAM. Samsung Galaxy can hold 1.2TB total memory with 256 FB built-in memory and 1 TB expandable memory.
Samsung Note 20 ultra pro size is bigger than the iPhone 12 pro max. Samsung's display is 6.9 inches and the iPhone has a size 6.7-inches display. A bigger phone is a blessing and a disguise at the same time. A bigger display means a wider view but it makes reachability tough.
But a bigger size also means a bigger battery. Samsung with 4500mAh gives the fast supercharging speed of 25 W. This iPhone's battery is better than the previous iPhone series and gives 3687mAh battery capacity.
This device of Samsung has a refresh speed of 120 Hz/FHD which makes it a wonderful gadget for gaming. Its upgraded cooling system gives cinematic looks without stuttering and buffering the game.
Design Comparison
iPhone 12 pro max mobile is flat with rounded corners while the Galaxy Note 20 ultra pro has two variants with different sizes of display. Rectangular and round. Galaxy exterior has rounded corners that shorter its display from 6.9 inches to 6.8 inches.
Galaxy has a stainless steel look with its Corning Gorilla Glass Victus panel on the front as well as back making it more protected.
Colour Range
iPhone 12 pro max is not providing the matte black color that most tech-savvy want. But its Pacific Blue color has stolen the hearts. It gives four different colors: Silver, Gold, Graphite, Pacific Blue which makes an iPhone more elegant. Galaxy Note 20 Ultra Pro gives satin texture with Mystic Bronze, Mystic Black, and Mystic White colors.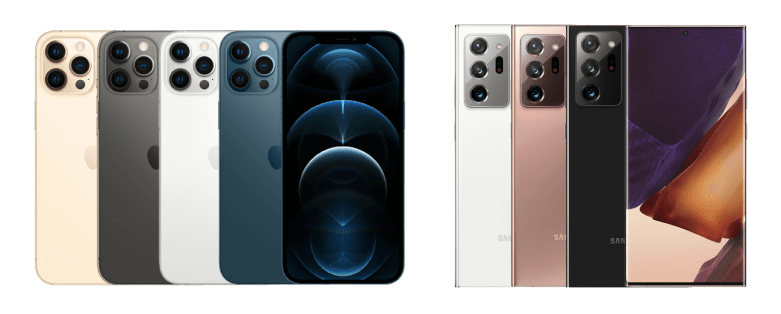 Display
6,9 inches Samsung AMOLED Display makes the Galaxy Note 20 pro max elegant. It gives a 3,000,000:1 contrast ratio with a 1500 nits display that not just gives you fast refresh speed but protects eyes that gives a smooth user experience. The advanced DCI-P3 color range makes your life colorful with accurate and original colors.
iPhone is slimmer with a bigger size of 17.08cm and has a glass shield of ceramic that protects it 4x times better and saves it from scratches.
Main Features
Galaxy device has face recognition and fingerprint to unlock the phone while iPhone provides better face recognition. IP68 waterproof technology saves Galaxy Note 20 Ultra Pro from water.
Samsung DeX allows you to connect your phone with a monitor and its Bixby Assistant takes your command and helps you out. Its AKG and Dolby Atmos audio make the sound experience more realistic.
Apple software is a future software that provides excellent features unlike other mobile phones and here iPhone 12 pro max beats all other mobiles. Apple has better hardware while Note 20 Ultra Pro has the stylus pen.
Camera Performance
Apple's new phone works on sensor-shift stabilization instead of lens-based stabilization that provides it more stability for the videographers. It's good for gimbal mode stabilization and making sharp videos.
iPhone 12 pro max camera is 12 MP with an excellent 1.6 aperture. Its sensor shifts make the night mode shot easier and it can capture a night shot just in 3 seconds. 12 pro max controls the highlights better and gives a good depth of field and details to a picture. iPhone 12 pro max has 2.5x optical zoom.
On the contrary, the Galaxy Note 20 Ultra Pro has advanced AL stabilization that makes shots smooth. Its selfie camera is 10 MP, while the back camera is 12 MP and the Wide-angle Camera is 108 MP. Samsung camera has an optical zoom of 5x and 50x super-resolution zoom but 50x zoom can cause grains in pictures. The best feature of videography is the UHD 8K (7680 x 4320) video shoot at 120 FPS that allows a videographer crisp recording. It allows 960 FPS slow-mo.
Which One is Better?
You can decide according to your priority. If someone is a photo geek or a person who prefers speed they can choose which one is better. Alfalah Mobile always provides value for our customers and gives A-Z mobile solutions. Whenever you buy a new mobile, or your existing mobile gets cracked don't hesitate to visit us.