Samsung Galaxy A72 was the most expensive phone of the A series in 2021. The Galaxy A series provides the most impressive features but at the lowest price than the S series. Samsung Galaxy A72 has the most excellent promising camera performance, big battery and stylish design. For 8GB RAM + 128GB the price is 34,999, whereas for 256GB its price is 37,999. Galaxy A72 has a different Snapdragon 720G and the battery level increases from 4500 to 5000 mAh. The camera includes four lenses except three. They show photos from macro to telephoto lenses that fit in every situation.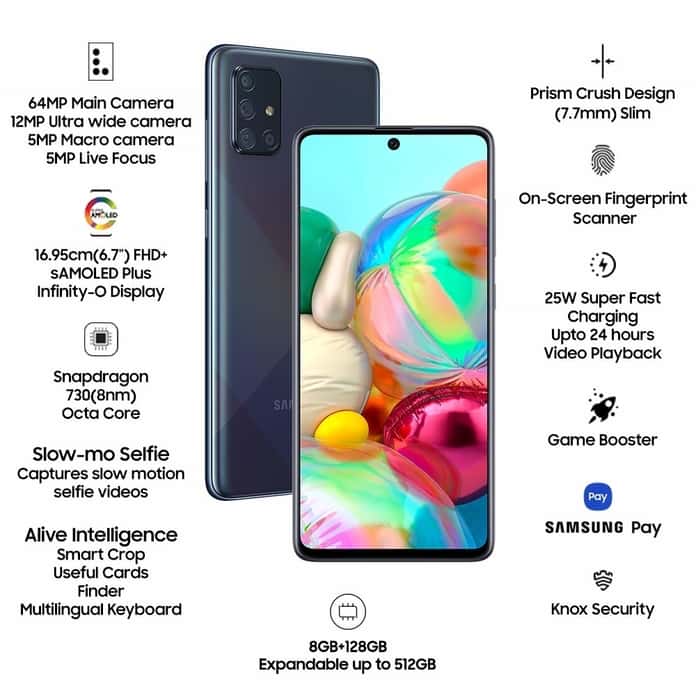 Samsung: The World's Biggest Manufacturer
There is no need to introduce Samsung, as everyone knows about this South Korean manufacturer. The Samsung Galaxy is one of the most expensive phones in the "A Series". You can get an A72 phone for 749$, which is not the best value, and it shoots a phone from a firm budget to a mid-range price. Although the specifications are not that dreadful and the phone itself is not bad, you can do it better.
Design, Functionality and Display
Galaxy A72 has a 6.7-inch AMOLED screen display, and here is an upgrade in A72, which is a 90Hz fast display refresh rate. Due to this feature, the Samsung A72 phone shows smooth animations and scrolling, offering an overall great experience.
The Samsung Galaxy A72 Screen resolution is 2400 × 1080, with 394 PPI pixel density, which is a good resolution for this price range. The screen quality on this phone is quite impressive, and there are Vivid and Natural colors for this phone. When you are outdoors, these color modes make the phone a little bit lighter.
Galaxy A72's design is so smooth with a flat and matte back. There is a fingerprint sensor on Samsung Galaxy A72 under the display. The phone also contains the facial recognition feature for biometrics, which is faster than the fingerprint feature. Galaxy A72 is present in the market in four fresh colors:
The phone looks heavier than its predecessor, but it is lighter. Samsung did well with Galaxy A72 for the weight distribution, as it is neither too heavier nor too lighter. Another improvement in Galaxy A72 is the IP67 water & dust rating. This IP67 guarantees that the phone can hold up for 30 minutes under the water and is resistant to sand & dust.
Samsung Galaxy A72: Performance
Galaxy A72 can be the best budget price for the A-series. It has the Qualcomm Snapdragon 720G. It is paired up with 8GB and 256GB storage. Although it is a high-priced phone, it has only 4G connectivity, not 5G in Australia. There are minor improvements in Galaxy A72, but it can easily handle everyday tasks like video streaming and social media browsing. The performance of the Galaxy A72 is quite well for this priced-range phone.
Samsung Galaxy A72: Camera & Audio
Samsung Galaxy A72's camera design is the camera bump design which is an organized and neat design. It has four cameras on the back and one selfie camera on the front. These four rear cameras have a 64MP primary camera, 12MP ultra-wide-angle camera, 8MP telephoto and 5MP macro camera. The front camera has a 32MP.
The telephoto lens can zoom in the pictures up to 30 times. As a 30-times zoomed-in photo is not social media friendly, but it is good to have this feature on a mid-range priced phone. The snaps by the Galaxy A72 are realistic and sound. Another impressive feature is Optical Image Stabilization, which helps click a photo even in challenging conditions like low light. Some other unique features are the 4K video snap & AR emoji. The earlier feature permits you to take your favorite snap in the 4K, and the latter feature uses Snap chat filters so you can have fun with your friends.
This photo can be shot on the video in 3840 × 2160 resolution. During video recording, one can switch from ultra-wide-angle to the standard recording.
If we talk about Audio, the Galaxy A72 has stereo speakers producing a loud sound, so you can easily listen to the music without maxing it out.
Software
The phone is very responsive to the 90 Hz of the Galaxy A72. The processor is still doing quite well, as you can't feel you are using a more-budget phone. The storage of the Galaxy A72 is the base storage of 128GB, and this phone has 6GB of RAM.
Samsung SmartThings allow you to revamp your audio for three distinctive activities,
The auto settings can revamp it for you, depending on your interest. This phone has all the whistles of UI 3.1 here. This feature allows you to have fun and ease—this UI 3.1 feature enables your phone to switch automatically to dark mode after sunset and protect your eyes.
Battery Life
The Samsung Galaxy has a 5000 mAh battery life which lasts almost for two-days. Gaming and YouTube use more battery, but they can still make it to the end of the day with bigger battery life. This battery life supports 25W fast charging, but it comes with a 15W charger, so if you want fast charging, you have to buy a 25W charger.
Conclusion
Inclusively, the Samsung Galaxy A72 is a quite impressive mid-range phone. If you want a phone with a good quality display, a different camera setup, and a great battery life at an affordable price, you should go ahead. The performance is suitable for daily drivers but not good for a gaming person. The hassle for the A72 will be one of standing out, given that phase has a lot of options, which provide comparable specs and equally proper overall performance. But the customers with a high budget prefer phones with higher processing power.
Where to Find the Best Technicians for the Repairing of Samsung Galaxy A72?
If your Samsung Galaxy A72 is dealing with some issues and you want to repair it quickly. Head to our technicians at Alfalah Mobiles. We will repair your device within no time with the best quality parts. We will provide the fastest turnarounds. Our main motto is to provide exceptional services to our customers and convenience.